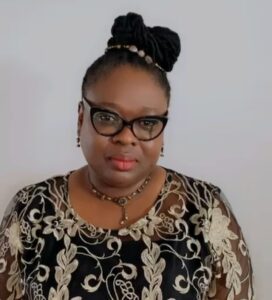 Elsie Gaisie – Ahiabu is currently the programme Coordinator of the California State University at its University of Ghana center. Elsie holds an MPhil degree in Social Work and currently a final year doctoral candidate at the Regional Institute of Population Studies of the University of Ghana. Her area of concentration is women, children and sexuality.
The first part of her career was spent mostly in activities relating to community service through the founding of a local non-governmental organization (LNGO)-DeSMAS. DeSMAS or Deprived Single Mothers Assistance Scheme afforded her the unique opportunity to apply the principles of her skills as a social worker in assisting single mothers in deprived communities. It involved project proposal development, fundraising efforts, and provision of employment through recruitment of staff, financial management, project implementation, monitoring and evaluation, impact assessment among other project management strategies that afforded her the rare opportunity to appreciate life among various usually marginalized social groups not impacted by government social interventions. These years were also formative period of developing or acquiring skills such as training and consultancy services at many workshops, seminars, stakeholder consultations etc. that come with community works and NGO management. Her organization DeSMAS undertook projects sponsored by USAID, DFID, Ghana AIDS Commission, Mercy Ships, Africa Women Development Fund (AWDF), District Assemblies (Local authorities) among others.
The second part of her career has been more in the formal sector coordinating various programs and projects, consultancy services and teaching at tertiary level. Her interest in social work has resulted in collaborating with a colleague to put together a book that is most useful to social workers who are interested in practicing or learning about school social work. The book, "Child Protection in Boarding Schools in Ghana: Contemporary Issues, Challenges and Opportunities" was launched in August 2018. The book is useful for social workers, policy makers and educationists on child protection processes in schools.